Providing High-Speed
internet where other
providers won't.
Signing

Up is Quick and Easy
First let's make sure you're in our coverage area! Do this by entering your address above!
Next choose the plan that best fits your household's needs!
After that, you'll get a call from one of agents to schedule your FREE install!
30-Day

"No Regrets" Guarantee!

If you are not 100% satisfied with our internet service, we will refund 100% of all money paid in the first 30 days of testing our service totally unconditionally.
Unlimited

Data!

Our unlimited plans are truly unlimited and never traffic shaped, so your internet is always fast the entire month.
No

Contracts!

We don't require contacts, ever. Once you experience succeed.net we are certain you will never want to leave.
Local

Hometown Support!

We know the struggle with big corporate ISP's with frustratingly bad support. Rest assured, Succeed.net has you covered.
FREE

Install!

Including outdoor wireless gear, thin ethernet cable. $199 Value.
Faster

Upload Speeds!

No more buffering when streaming, no more lag when gaming, Perfect for Zoom meetings! Plenty of bandwidth for the whole family!
Will is a great guy. He showed up at our door on time and took care of installation like a champ. He kept a friendly attitude at all times and went above and beyond to ensure all our devices are connected. So thankful for his helpful service. Highly recommend him and the Succeed team
Will not only arrived within the two hour time window, he was early. I am an older person and not very tech savvy. Will took some time to talk me through things and, explained how things work. I would recommend Will as an installer to my Friends, and my family too! Thanks Will!!!

The Affordable Connectivity Program is an FCC benefit program that helps ensure that households can afford the broadband they need for work, school, healthcare and more. The benefit provides a discount of $30 per month towards any SUCCEED.NET internet service for all eligible households or $75 per month for households on qualifying Tribal lands.
What is fixed wireless internet & how does it work?
Fixed wireless internet is a type of broadband internet service that uses radio signals to provide high-speed internet access to a fixed location, such as a home or business.
Here's a simplified explanation of how fixed wireless internet works:
1. A fixed wireless internet service provider installs a receiver or antenna on the rooftop of the user's building, which receives radio signals from a nearby tower or base station.
2. The radio signals are then converted into internet data and sent to a router or modem inside the building, allowing users to connect to the internet wirelessly.
3. The user's device, such as a computer or smartphone, sends requests for data to the router, which sends those requests to the service provider's network over the radio signal.
4. The service provider's network responds to the request by sending the requested data back to the router, which then delivers the data to the user's device.
Fixed wireless internet can provide upload & download speeds up to 100Mbps - 250Mbps, depending on the provider and the plan chosen.
Is it Fast?
Absolutely! In fact, what sets us apart from other internet providers is that all of our plans are fully symmetric. (Up to 100MBPS) which means your download speed will always match your upload speed! With faster upload speeds you can say goodbye to buffering, lag, and frozen zoom meetings!
How much is it?
Fair, honest, fast, high-tech, reliable, and safe is our goal in providing the best Internet value for your dollar. We may not be the cheapest or the fastest, but we aim to be the best overall experience and value.
Our plans range from $40.00/Month to $130/Month. Keep in mind, your price is dependent on the plans that are available in your area!
Do you require contacts?
Nope & never! You pay as you go!
Is it truly unlimited?
Yep! All of our plans are completely UNLIMITED!
What areas do you offer service?
We offer internet in places like:
Arbuckle, CA
Bangor, CA
Beale AFB, CA
Biggs, CA
Browns Valley, CA
Butte City, CA
Capay, CA
Colusa, CA
Dobbins, CA
Dunnigan, CA
Elverta, CA
Glenn, CA
Gridley, CA
Grimes, CA
Knights Landing, CA
Live Oak, CA
Marysville, CA
Mather, CA
Maxwell, CA
Meridian, CA
Nicolaus, CA
Olivehurst, CA
Oregon House, CA
Orland, CA
Penn Valley, CA
Pleasant Grove, CA
Princeton, CA
Rancho Cordova, CA
Richvale, CA
Rio Linda, CA
Rio Oso, CA
Rocklin, CA
Roseville, CA
Sacramento, CA
Smartsville, CA
Sutter, CA
West Sacramento, CA
Wheatland, CA
Williams, CA
Willows, CA
Woodland, CA
Yuba City, CA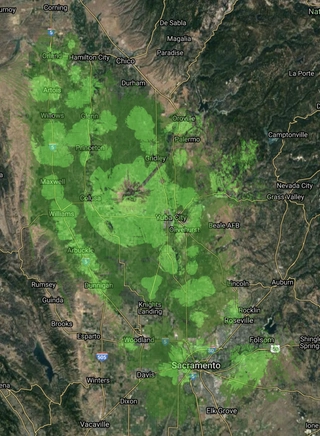 How do I know if I can get service?
All you need to do is type your address in the form above, build your account & choose your plan, then expect a call from one of our scheduling agents to get you on the books for your FREE install! ($199 Value)
Do you offer the $30.00/Mo discount through the ACP?
Yes! Succeed.Net offers the Affordable Connectivity Program (ACP). The benefit provides a discount of $30 per month towards any Succeed.Net internet service for all eligible households or $75 per month for households on qualifying Tribal lands.
Here are the steps to enroll in the ACP Benefit:
1. Go to ACPBenefit.org to submit an application to ACP program online. (Existing customers can add ACP benefit to their account at any time.)
2. Signup for Succeed.Net internet service online at get.succeed.net (You aren't charged anything until AFTER you are installed)
3. Email your acceptance from the ACP program to sales@succeed.net to apply it to your Succeed Internet service account. Include your name and address to ensure quick processing. Congrats on saving money every month!